Eighteen years ago today I was sitting with my grandmother who had dementia/Alzheimers watching the tv as the towers fell.  She didn't understand and wanted to go outside to see the chickens.  I wanted to stay and watch the events unfold.  Dementia won and we went to...

In the heat of the tough days, we bought a picture care phone for my loved one.  Soon thereafter she made a dramatic turn for the better and has stayed there for the last 6 months.  It ended our need for the phone but we have it around just in case.  Although we...

Aquatic therapy is an amazing form of therapy for loved ones.  Although be cautious if your loved on suffers from dementia.  You have to gauge the diagnosis and status of your loved one to know if it is a good fit. But if it is, there are many good things with water. ...

One thing my loved one bemoaned (daily/hourly) was her inability to carry items from one place to the next with her walker.  I had NO IDEA A WALKER TRAY EXISTED when she was using a walker.  I would have purchased one had I known.  At present my loved one uses a...

The time came for us (or perhaps is past time) to delve into the world of medical alert devices.  My loved one is getting more mobile after a nasty hip fracture and is getting more freedom.  At the same time, I'm tired and didn't take the time to do a lot of...

When you hear the words "Bariatric Drop Arm Commode" you think bariatric and you think big.  But it can actually make things smaller if you look beyond to see it is not just for bariatric loved ones.  Let me tell you why.  Typically when you start investing into home...

It is no small task to know how to facilitate sleep for your loved one.  What works for you might not work for someone else.  But you keep trying.  Why?  Because when your loved one sleeps, you sleep.  It is as much about preserving your sanity as it is about caring...

Walker fit (or fitting a cane) to a person is your loved one's musculoskeletal health.  Do you see the picture above?  It's nice.  Has a handsome young man with a smiling, older gentleman.  But if the nice young guy doesn't do his research, he's going to cause his dad...

A wheelchair accessible vacation is doable but offers unique challenges.  Just because a venue totes "wheelchair accessible" doesn't exactly mean that it is comfortably so for our loved one.  Consider a movie theater where wheelchair accessible means being placed at...

After a 4300 mile road trip, I have come to the conclusion that it is indeed possible to have a wheelchair vacation.  But to have a good vacation there are some helpful pieces of mobility equipment that can make it easier. 1)  A Beach Wheelchair--I had never heard of...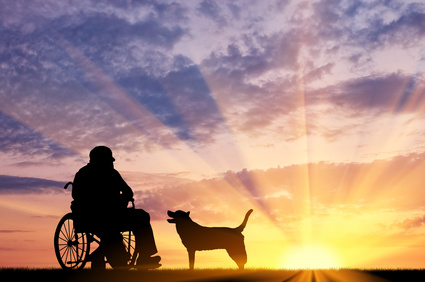 Help with Sundowing Sundowning is hard--both for the loved one and the caregiver.  It's the jitters on steroids and sometimes it's strong and sometimes it's not.  But as the sun goes over the horizon it is like our loved one turns into a nervous mess.  It typically...